Date: 29.11.2021 — 10.12.2021
Screening and discussion with Ulrike Gerhardt will take place on 29 November 2021 at 6 PM in the Ponrepo Cinema. 
curators: Ulrike Gerhardt a Markéta Jonášová
artists: Ieva Balode, Masha Godovannaya, Lea Petříková, Alžběta Bačíková, Alex Martinis Roe
The programme My Significant Others stirs up cultural narratives that have been excluding significant Herstories. Five films by female artists present feminist forebears as well as undiscovered inspirational female figures, who struggle to become part of the official artistic and political history. Lea Petříková's video work After the Magician (2020) explores themes of invisibility, magic and dreams, drawing on the unfinished film Le Magicien (1947) by the underrated surrealist artist Alice Rahon. Masha Godovannaya's video work Only two words (2018) introduces the two poems Holes and Bone by the American poet Eileen Myles and transpositions them into a queer visual essay with images of St. Petersburg, Russia, and New York, USA. The video work Alliances (2018) by Alex Martinis Roe traces the invisible heritage of feminist forebears in the city of Paris. By speaking with committed feminists and activists, Martinis Roe suggests a more nuanced picture of 1968 and the women's liberation movement. In Bent Tiles (2017), artist Alžběta Bačíková tells the story of the unrecognized Czech ceramicist Jarmila B. in the setting of an abandoned spa hotel. With her radical ideas and habitus, she was ahead of her times, led an incognito life of a rebel. Ieva Balode's sci-fi inspired work Commission (2020) follows the journey of a mythical matriarchal book between the past and present.
The programme is a collaboration between etc. gallery, the online platform D'EST, and the National Film Archive, and it was supported by the Rosa Luxemburg Stiftung. 
production: Anna Davidová, Tomáš Kajánek
IT support: Tanya Bogacheva, Ondřej Roztočil
graphic design: Nela Klímová
translations: Věra Kloudová, Lenka Marie Čapková, Bob Hýsek
special thanks to: Jakub Jirka, Michal Jurza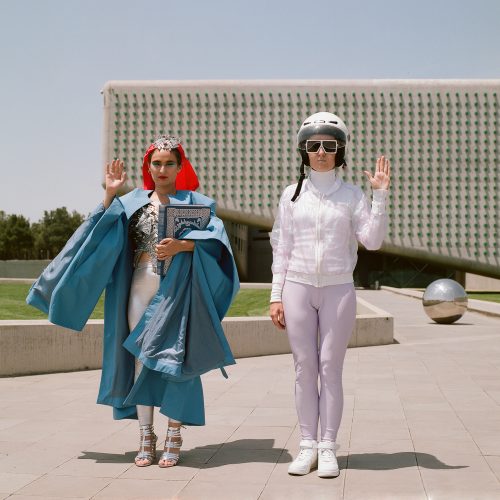 Ieva Balode, still from Commission, 2020